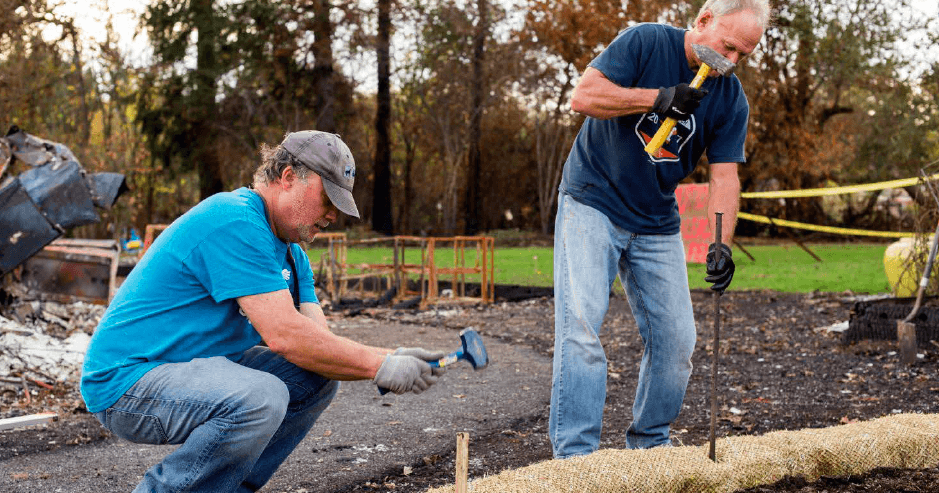 Emergency Watershed Protection Program
---
OUR URGENT PLEA TO ALL SONOMA VALLEY BURNED STRUCTURE OWNERS:
Please sign and mail our consent form to allow our crews onto your property to contain toxic waste. Our free service will include using wattles and sandbags installed by our crews. Email Nancy Kirwan at nancy@sonomaecologycenter.org to help protect our watershed, including our drinking water, fish, wildlife, and ultimately the Bay. 
---
There is much work to do as we organize volunteers in an effort to shore up burned properties near Sonoma Valley waterways. Houses and structures that burned in the recent fires have left behind ash and debris that includes sulfates, nitrates, asbestos and heavy metals. This toxic waste can wash into waterways during heavy rains, so keeping the ash and debris in place until it can be properly removed is very important to watershed health, wildlife and public safety.
As part of our Emergency Watershed Protection Project, we are engaging landowners, volunteers and donors to strategically protect Sonoma Valley streams and public health. Currently, we are asking for assistance in:
Manning and managing material staging areas. At these sites, volunteers will fill sandbags and load vehicles with sandbags and wattles. We will have staging areas in Kenwood off Adobe Canyon, along Dunbar Road, and in Glen Ellen.
Placing materials at structures. Small groups of volunteers will place sandbags and wattles downhill of burned structures at prioritized sites, working under the supervision of a trained team leader.
Contacting landowners. Our volunteers are reaching out to all Sonoma Valley landowners with burned properties near waterways. Our goal is to have them sign our permission forms and allow access so that we can help secure the site.
You can take part in protecting our watershed.
First – see if one of our calendar of shifts works for you.
If none of those times work, please fill out our volunteer sign-up list to join our growing team of volunteers.
You can also fill out our volunteer waiver, and bring along or sign one at your first shift.
Landowners
We'd like to talk to you! In particular, we want to reach Sonoma Valley landowners in areas with a high density of structures burned in close proximity to streams to inform them of services we are offering. Those interested in our services can sign our consent form so we can access your property and get to work. See this info sheet for a more complete list of the services we offer.
In general we are looking for people to help us locate toxic sites near streams, damaged culverts, and other places that drain into the Sonoma Valley watershed. We're also interested in hearing your concerns related to erosion and toxics in Sonoma Valley. Anyone with information is encouraged to email us at info@sonomaecologycenter.org.
List of Online Forms
Following is a complete list of our online forms for both landowners and volunteers.
Fire Recovery Tips
Click the links below for insights and advice on these topics, presented by our staff of expert ecologists:

100% of your donations will go toward supporting immediate and long-term active response, education and prevention efforts in Sonoma Valley—Glen Ellen, Kenwood, and Sonoma.