Volunteer – and help us rebuild Sonoma Valley
In the wake of the North Bay fires, Sonoma Ecology Center is helping to mobilize local volunteers to work together on rebuilding Sonoma Valley – and making our home more thriving and sustainable than ever. Anyone interested in joining us in any capacity, from building trails to entering data, is encouraged to contact us at volunteer@sonomaecologycenter.org.
Our top priority during the rainy season is keeping toxic ash and debris out of our waterways, which is why we are organizing volunteers through our Emergency Watershed Protection Program. Those interested in joining that effort may click here. Participants will be asked to fill out an online volunteer information form, then sign up for shifts on our online volunteer shifts calendar.
Thank you all for your interest in helping us rebuild!
Volunteer Opportunities at Sonoma Ecology Center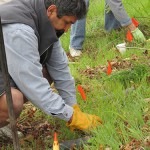 Fryer Creek Restoration
Whether you have a few hours per week, a few hours per month, or a few hours per year, we'd love to have you on our team as a Sonoma Ecology Center volunteer. As a volunteer, you'll join others who share your love and concern for a healthy environment. You'll learn new skills, make new friends, and make a difference in the health and well-being of your home.
For more details, contact us at volunteer@sonomaecologycenter.org or 707-996-0712 ext. 107.
Sonoma Garden Park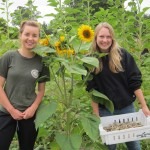 Volunteers in the Sunflower Beds
Owned by the City of Sonoma, the Sonoma Garden Park has been managed by Sonoma Ecology Center for more than two decades. Located at 19996 7th St. East, the park is well known as a great place for volunteers to grow many things, including community.
We always have volunteer opportunities at the Garden Park in a variety of areas, including gardening and nursery work, assisting with our children's environmental education program, helping our restoration and research teams, and assisting with administrative tasks in the office.
Drop-in volunteers are always welcome at Sonoma Garden Park, although first-time volunteers are required to attend a volunteer orientation before dropping in! (The volunteer schedule varies at our Native Plant Nursery; please contact us directly for more information on becoming a nursery volunteer.) Current drop-in hours are:
Tuesdays 9am-12pm
Wednesdays 9am-12pm
Fridays 9am-12pm
Saturdays 8:30am-12pm
For more details, visit Sonoma Garden Park's volunteer webpage or contact us at volunteer@sonomaecologycenter.org or 707-996-0712 ext. 107.
Fire Recovery Tips
Click the links below for insights and advice on these topics, presented by our staff of expert ecologists:

100% of your donations will go toward supporting immediate and long-term active response, education and prevention efforts in Sonoma Valley—Glen Ellen, Kenwood, and Sonoma.