Sustainable Sonoma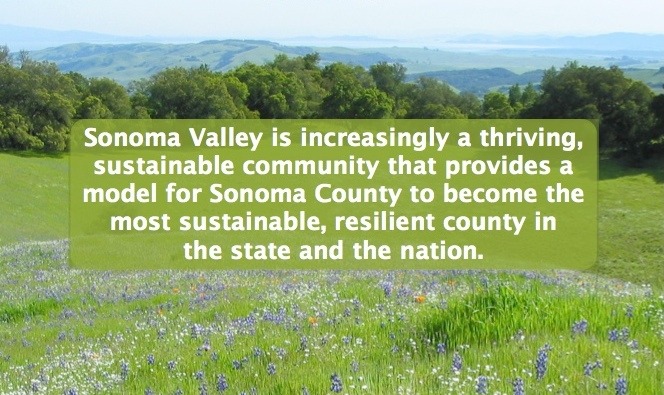 Sustainable Sonoma is a project that unites Sonoma Valley's many efforts to improve our community under one set of shared goals and measurable targets. This common agenda will align our activities and accelerate success.
The need:
Over 100 nonprofits and agencies work to make Sonoma Valley a better place. Though most share a similar vision of a better Sonoma Valley, we lack a coordinated workplan, common goals, and shared measurable outcomes that would lead to efficiencies and greater success.
Our approach:
We will use the well-conceived Collective Impact approach to align agendas, identify shared measures of success, coordinate work, and communicate success.
Timing– Phases of Sustainable Sonoma:
2013-2015: Inspiration and Research
2015-2016: Pioneer the Partnerships
2017-2020: Sonoma Valley Pilot
2018 onward: Sonoma County Implementation
Partners:
Initial partners span the elements of holistic community sustainability.
Sonoma Ecology Center
We see that environmental aims cannot be fully supported by a community until social inequities are addressed and economic success is seen as compatible with environmental vitality.
Sonoma Valley Chamber of Commerce
Chamber Board President Neil Colwell stated in 2014:"The collaboration with Sonoma Ecology Center and the Health Care District is something we strongly believe in."
Other interested parties as of January 2016:
Sonoma County Health Action,
Sonoma County Supervisor Susan Gorin,
Sonoma County Water Agency,
Sonoma Valley Fund.
Sonoma Valley Health Care District
In November 2014, the Sonoma Valley Healthcare Roundtable agreed to formally "incubate" Sustainable Sonoma and host its initial efforts.
Sonoma Valley Visitors Bureau
The Bureau wants to promote Sonoma Valley based on its green economy, with sustainable agriculture, local food, and beautiful scenery.
La Luz Bilingual Center
La Luz see itself as a catalyst for change in Sonoma Valley, though health, education, and financial security.