Sonoma Ecology Center is the only organization that consistently monitors and reports on broad measures of ecological health in Sonoma Valley. Using our expertise and unique data sets — historical ecology, fish presence, water quality parameters, erosion data, and others — our staff leads watershed health monitoring and scorecard measurement, climate adaptation planning, sediment analysis, and steelhead data analysis.
Streamflow Stewardship Program
This program by Sonoma Ecology Center and Trout Unlimited is designed to monitor streamflow in Sonoma Valley, then create a plan with local landowners to enhance streamflows in the upper Sonoma Creek Watershed. The resulting projects will support aquatic wildlife while improving our own water supply.
Watershed Health Monitoring
Sonoma Ecology Center created and maintains the only watershed health monitoring effort in Sonoma Valley. Following strict standards, we monitor sediment pollution levels, streamflow, aquatic insects, fisheries, temperature, and other measures of watershed health. We have been the only locally based nonprofit to produce sediment pollution data and analysis thorough enough that major water quality regulations are based on it.
Watershed Health Scorecard
How is our watershed doing? To answer this question, our staff created the only user-friendly scorecard on watershed health for Sonoma Valley. The half-page scorecard distills complex datasets into a few critical measures and scores current conditions against a target of watershed health.
Climate Preparedness
With so much at stake due to climate change, Sonoma Ecology Center has made climate preparedness a priority. In 2009 we co-founded the North Bay Climate Adaptation Initiative, and have co-authored four fact sheets on how to adapt to a changing North Bay climate.
Steelhead Data Analysis
What factors are threatening the population of steelhead trout in the Valley? Our researchers worked with multiple partners to synthesize all available data on Sonoma Creek watershed to answer the question. Read more about our work on data analysis and indicator development for the National Oceanic and Atmospheric Administration's Coho and Multi-Salmonid Recovery Plans.
Caitlin Cornwall
Research Program Manager
BA Integrative Biology, UC Berkeley; MS Botany and Ecology, Arizona State University
Caitlin has been with Sonoma Ecology Center since 1998. Her expertise includes indicator-based reporting systems, climate adaptation, technical partnerships for local-scale multiple stakeholders, multi-benefit water management strategy, wildlife habitat connectivity, and riparian ecology.

Alex Young
GIS Manager
MA, University of California Davis
Alex has over 15 years of experience in spatial analysis, cartography, and geo-spatial data management. He uses GIS and field mapping methodologies for environmental research to manage invasive species and stream health indicators.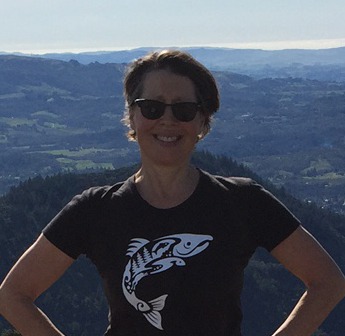 Melissa Roberts
Watershed Science Technician
AS Environmental Conservation, Santa Rosa Junior College; BA Community Organizing, Evergreen State College
Melissa observes and records field data, manages data and equipment, prepares GIS maps, and assesses site conditions such as culvert sedimentation and invasive vegetation. She has expertise in watershed science, is a certified California Naturalist, and is a Wilderness First Responder.
Bryan Sesser
GIS Analyst
Bryan has over 31 years of experience in Information Technology in program and project management roles. In addition to project work, Bryan maintains our automated continuous monitoring station on Sonoma Creek.
Frequent Partners
Becca Lawton (Rebecca Lawton Consulting)
Arthur Dawson (Baseline Consulting)
Laurel Collins (Watershed Sciences)
Sonoma County Water Agency
University of California, Davis
Environmental Protection Agency
Department of Water Resources