Support Our Work, Support Your Home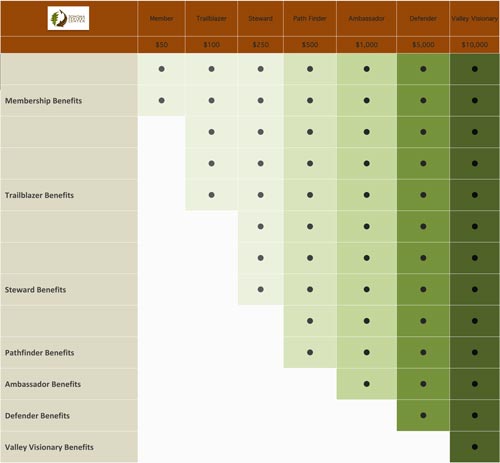 Sonoma Ecology Center is a 501(c)(3) non-profit.
Our tax ID is 94-3136500.
If you are interested in making a more substantial investment in Sonoma Ecology Center, thank you, we would be delighted to speak with you about our many funding opportunities.
Call ext. 125
We welcome you to join our new membership program and enjoy the benefits below. 
$50 – Member
Member Level Benefits
Timely information via our e-newsletter "In the Watershed"
Invitations to SEC events and activities (which include Sugarloaf Ridge State Park, Sonoma Garden Park, Van Hoosear Wildflower Preserve)
* Seniors and Students can join for a $25 discount
$100 – Trailblazer
Member Level Benefits plus…
1 day pass to Sugarloaf Ridge State Park (also good for Jack London Pass) 50% off Sugarloaf Ridge State Parks hikes for you and a friend (Excluding Fireworks Hike, Brunch on Bald, Headwaters to Headwaters Hike)
Discount of $40 per session on our Summer Science Camps
Recognition in our annual Impact Report
$250 – Steward
Trailblazer Level Benefits plus…
A gift of fresh produce from the Harvest Market at Sonoma Garden Park once per peak season
30% discount on Sonoma Garden Park workshops
Invitation to donor appreciation events
$500 – Path Finder
Steward Level Benefits plus…
Sugarloaf Ridge State Park annual parking pass (also valid for Jack London State Park)
Two complimentary tickets to a Garden Cocktail Party on Sunday, May 20th
$1,000 – Ambassador
Path Finder Level Benefits plus…
Two complimentary tickets to Sugarloaf Ridge State Park's Headwaters to Headwaters Hike
$5,000 – Defender
Ambassador Level Benefits plus…
Two complimentary tickets to Sugarloaf Ridge State Park's Fireworks Hike
$10,000 – Valley Visionary
Defender Level Benefits plus…
Private guided hike for 8 at Van Hoosear Wildflower Preserve
 Membership benefits last for 12 months