HELP US BUILD A RESILIENT SONOMA VALLEY
Sonoma Ecology Center is committed to working with the community to make Sonoma Valley more thriving and sustainable than ever before. Anyone looking for useful information on ways to help is invited to click on the links below.
Fire Recovery Tips & Info  ///  Volunteer  ///  Donate
May
26
Sat
ParkRx – Forest Therapy

@ Sugarloaf Ridge State Park
May 26 @ 9:30 am – 12:30 pm
The Practice of Forest Therapy, has been shown to improve health and well-being.
Have you heard about Shinrin Yoku or Forest bathing? Here is an opportunity to take a walk and experience the practice for yourself. Learn techniques to maximize the health benefits and stress reducing qualities of this walking practice. Shinrin yoku originated in Japan and is gaining popularity in the United States for its documented Health benefits.
This practice takes a walk in the woods to another level. A centering and calming restorative practice, it promotes balance and restored vitality through a quality of presence and heightened sensory awareness. Recent articles have been written up in Oprah, Time Magazine, and National Geographic, as well as numerous other publications. Sugarloaf Ridge State Park hosts a Forest Therapy Series as part of its Parks RX program the 4th Saturday of each month (http://parkrx-sonomacounty.org/events/). These walks are led by certified ANFT (Association of Nature and Forest Therapy) practitioners. See http://www.natureandforesttherapy.org/ for more info about this practice.
Tickets $20 or free with a ParkRx from a Sonoma County Medical Provider (click Doctor's Info here for more info).
Tickets: https://www.brownpapertickets.com/event/3327719
May
28
Mon
Family Hike

@ Sugarloaf Ridge State Park
May 28 @ 10:00 am – 12:00 pm
Come to the park for a peaceful hike through the woods, join our Docent's for this fun family hike that is good for all ages. During this 2 miles hike with a 400 foot vertical, you will learn more about Sugarloaf Park and its plants, animals, and history. Weather permitting, the hike will begin and end at the Visitors Center. No RSVP needed, and no charge for the hike. $8 parking fee.
Jun
2
Sat
Trail Crew: Sonoma County Trails Council

@ Sugarloaf Ridge State Park
Jun 2 @ 9:00 am – 1:00 pm
Sonoma County Trails Council volunteer trail work day at Sugarloaf Ridge State Park. From 9am to about 1pm. We will provide parking passes, tools and Clif bars with beverages and snacks afterwards.
Bring gloves, a hat and water that you can take with you while working, and wear long pants, boots or hiking shoes and sunscreen. No experience necessary – we have tools and trained crew leaders with tasks for all strengths and sizes of volunteers.
In order to make sure we have enough tools and after-work beverages reply to trailscouncil@sonic.net if you plan to attend. If you have any questions, don't hesitate to contact us.
Healthy Parks / Healthy People – First Saturday Hike

@ Sugarloaf Ridge State Park
Jun 2 @ 10:00 am – 12:00 pm
Welcome to Sugarloaf! Join Sugarloaf hike leaders, and meet others committed to improving their health and well being through exercise and spending time in nature. We'll take the Meadow Hillside Loop–a 3-mile hike, with 250 ft elevation gain.
This walk is part of Healthy Parks Healthy People Bay Area initiative, which connects residents with the health benefits of public parks and open spaces. Bring a water bottle, hat, sunscreen and comfortable walking shoes. Free hike and free parking for HPHP First Saturday Sugarloaf hikes.
For more information about HPHP hikes around the Bay Area, visit: http://www.hphpbayarea.org/
North Bay Fire Images
An online story map covering the North Bay between October 8th and October 30th of 2017. All members of the public are invited to upload pictures.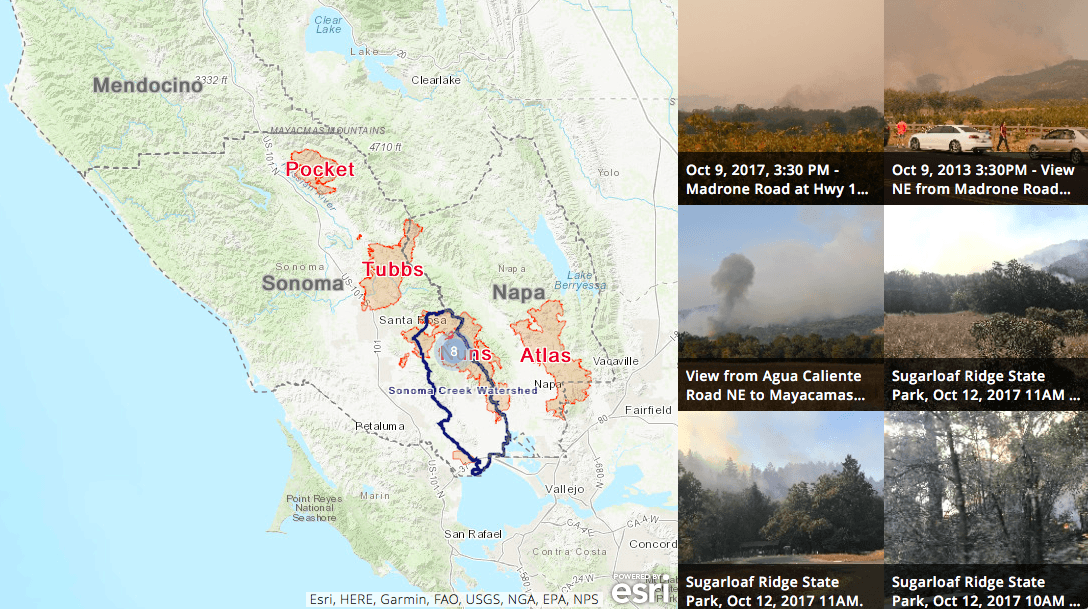 Featured Projects
Click on the image for an interactive map of Sonoma Valley

The Ecology Blog: What's Happening in Sonoma Valley