HELP US BUILD A RESILIENT SONOMA VALLEY
Sonoma Ecology Center is committed to working with the community to make Sonoma Valley more thriving and sustainable than ever before. Anyone looking for useful information on ways to help is invited to click on the links below.
Fire Recovery Tips & Info  ///  Volunteer  ///  Donate
Mar
17
Sat
RFO Solar Viewing

@ Robert Ferguson Observatory
Mar 17 @ 11:00 am – 3:00 pm
The Robert Ferguson Observatory (RFO) is open to the public at least once a month, usually on a Saturday near the time of the New Moon (see schedule at left).
Daytime Solar: Solar telescopes are set up so you can safely look at and listen to our favorite star, the Sun.
For more information, visit: rfo.org
The Robert Ferguson Observatory: Both peaked roofs roll back to reveal the telescopes inside.
The dome opens and revolves with its telescope. The tall poles attached to the sides of the building
are part of RFO's radio astronomy set-up that allows us to listen to the Sun. Photo: Mark Hillestad
RFO Public Star Party

@ Robert Ferguson Observatory
Mar 17 @ 8:00 pm – Mar 18 @ 12:00 am
The Robert Ferguson Observatory (RFO) is open to the public at least once a month, usually on a Saturday near the time of the New Moon.
Star Parties: Presentations on astronomical topics are given in the classroom throughout the course of the evening. Starting at dusk, the Observatory's three main telescopes are open for your viewing. Docents set up additional telescopes in front of the building. Friendly and knowledgeable docents are available to answer your questions.
FAQs:
When to arrive: We keep the observatory open as long as there are visitors, but you must arrive within 3 hours after start time to ensure that we remain open for you. Summer Star Parties begin with tours and presentations until it's dark enough for observing.
Bring warm clothing, even in summer—observing is done outdoors.
There is a short walk from the parking area to the Observatory and you may wish to bring a small flashlight.
White Light: No white lights should be used after dark; the observatory is a red-light-only area to protect everyone's night vision. We will supply red cellophane to cover flashlights. Please note:
◦ Bring a SMALL flashlight (large camp lanterns, light sticks, etc., cannot be adequately covered by red cellophane).
◦ Cell phones or cell-phone flashlights are acceptable but must be covered in red cellophane. (No cell service at the observatory).
◦ Some head lamps are difficult to cover with red cellophane. Once covered, head lamps should be worn around the neck or used pointing down as they are usually very bright at eye level.
◦ Red flashlights are available for $5 at the observatory.
Alcohol is prohibited on Observatory grounds.
The Observatory is not open to the public except for scheduled events.
Classroom presentations are always offered on Star Party nights even if the weather is poor. For current conditions call the observatory at 707/833-6979.
For more info please visit Robert Ferguson Observatory Website: http://www.rfo.org/.
Mar
18
Sun
Who's Singing in the Forest, Canyon or Meadow? Hike

@ Sugarloaf Ridge State Park
Mar 18 @ 9:30 am – 11:30 am
Introduction to birding—observation by sound.
Spring is the best time to develop or improve our birding skills, as both migrants and resident are at their most songful. Sugarloaf, with its varied habitats, is an ideal place for birding. (Learning and practicing birding skills brings more awareness of everything in nature.) This will be a 2 mile moderate hike with some uphill and lots of stops. Bring binoculars if you have them, and good shoes for rocky or uneven trails. Rain cancels. Parking fees apply.
Fire Recovery Walk at Sugarloaf

@ Sugarloaf Ridge State Park
Mar 18 @ 10:00 am – 12:00 pm
Join park naturalists and/or Sonoma Ecology Center staff to learn how to interpret fire landscapes at Sugarloaf that burned in the recent wildfires. Come see the land recover.
We will be assessing burned trees, learning how to interpret fire-affected landscapes, and watching for special "fire follower" wildflowers. Discussion questions include: Why did this happen? What does it mean? How do we prepare for it happening again?
We will be walking 2 miles up a continual incline, gaining 700 ft in elevation in one mile. We return down a rough, paved, continually descending road. Please wear sturdy footwear, and bring trekking poles if you typically use them. Parking fees apply.
Ticket required — https://www.brownpapertickets.com/event/3333905
Mar
22
Thu
Sugarloaf Trail Crew

@ Sugarloaf Ridge State Park
Mar 22 @ 9:00 am – 1:00 pm
Help Sugarloaf with trail restoration work. Tasks includes bridge and step construction, installing signs, clearing, lifting, carrying and hiking. Bring gloves, hat, and water that you can take with you while working.Wear long pants, boots or sturdy shoes and sunscreen. Poison oak is present, so long sleeves are suggested. We have tools and trained crew leaders with tasks for all. Those under 18 years old must be accompanied by a responsible adult. We will provide tools, food and beverages. If you are a current State Parks volunteer, signup in vicnet. If you are an SEC volunteer, sign up here: http://www.signupgenius.com/go/20f0e4aaca62ca3ff2-sugarloaf1
North Bay Fire Images
An online story map covering the North Bay between October 8th and October 30th of 2017. All members of the public are invited to upload pictures.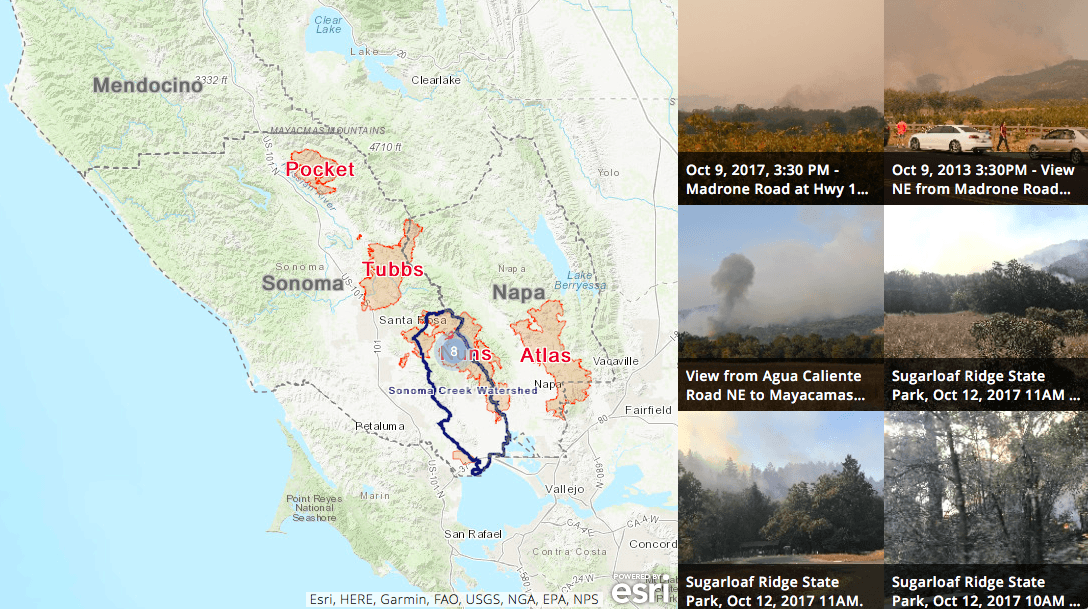 Featured Projects
Click on the image for an interactive map of Sonoma Valley

The Ecology Blog: What's Happening in Sonoma Valley