HELP US BUILD A RESILIENT SONOMA VALLEY
Sonoma Ecology Center is committed to working with the community to make Sonoma Valley more thriving and sustainable than ever before. Anyone looking for useful information on ways to help is invited to click on the links below.
Fire Recovery Tips & Info  ///  Volunteer  ///  Donate
Mar
22
Thu
Sugarloaf Trail Crew

@ Sugarloaf Ridge State Park
Mar 22 @ 9:00 am – 1:00 pm
Help Sugarloaf with trail restoration work. Tasks includes bridge and step construction, installing signs, clearing, lifting, carrying and hiking. Bring gloves, hat, and water that you can take with you while working.Wear long pants, boots or sturdy shoes and sunscreen. Poison oak is present, so long sleeves are suggested. We have tools and trained crew leaders with tasks for all. Those under 18 years old must be accompanied by a responsible adult. We will provide tools, food and beverages. If you are a current State Parks volunteer, signup in vicnet. If you are an SEC volunteer, sign up here: http://www.signupgenius.com/go/20f0e4aaca62ca3ff2-sugarloaf1
Mar
23
Fri
Fire Recovery Walk at Sugarloaf

@ Sugarloaf Ridge State Park
Mar 23 @ 9:30 am – 11:30 am
Join park naturalists as we celebrate the re-opening of Sugarloaf and look for signs of flora and fauna recovery. We'll discuss why the fires happen, what burned and what didn't, how plants and animals adapt, and how to be prepared for future wildfires. We will walk 2-3 miles; please wear sturdy footwear and bring lunch to enjoy on the visitor center deck after the walk; rain cancels. Parking fees apply.
Ticket required: https://www.brownpapertickets.com/event/3333905
Mar
24
Sat
ParkRx – Forest Therapy

@ Sugarloaf Ridge State Park
Mar 24 @ 9:30 am – 12:30 pm
The Practice of Forest Therapy, has been shown to improve health and well-being.
Have you heard about Shinrin Yoku or Forest bathing? Here is an opportunity to take a walk and experience the practice for yourself. Learn techniques to maximize the health benefits and stress reducing qualities of this walking practice. Shinrin yoku originated in Japan and is gaining popularity in the United States for its documented Health benefits.
This practice takes a walk in the woods to another level. A centering and calming restorative practice, it promotes balance and restored vitality through a quality of presence and heightened sensory awareness. Recent articles have been written up in Oprah, Time Magazine, and National Geographic, as well as numerous other publications. Sugarloaf Ridge State Park hosts a Forest Therapy Series as part of its Parks RX program the 4th Saturday of each month (http://parkrx-sonomacounty.org/events/). These walks are led by certified ANFT (Association of Nature and Forest Therapy) practitioners. See http://www.natureandforesttherapy.org/ for more info about this practice.
Tickets $20 or free with a ParkRx from a Sonoma County Medical Provider (click Doctor's Info here for more info).
Tickets: https://www.brownpapertickets.com/event/3327719
Bill & Dave Hikes: McCormick / Spaulding Hike

@ Hood Mountain Regional Park, Los Alamos Road lot
Mar 24 @ 10:00 am – 2:00 pm
Please join Team Sugarloaf and Bill and Dave Hikes as they partner on an informative hike within the extreme northern part of Hood Mtn Regional Park and the McCormick addition of Sugarloaf Ridge State Park. This moderately strenuous 6.5 mile hike, with 1000 ft of elevation gain, will highlight both Homestead Meadow near the Santa Rosa Creek crossing and the former Spaulding property now a part of Hood Mtn Regional Park. Plan to gather at the Los Alamos Rd parking lot at 9:45 for a prompt 10:00 start. This lot is at the end of Los Alamos Rd approximately 4.5 miles north of Hwy 12. Please bring a lunch, liquids, appropriate weather clothing, and plan on a shallow water crossing of the Santa Rosa Creek. The hike is free, but a Regional Park entrance fee of $7 will apply. For questions, please contact Dave Chalk at 539-8847, Bill Myers at 833-4128, or check out billandavehikes.com or sugarloafpark.org.
Crecer en el Jardín: Evento Bilingüe

@ Sonoma Garden Park
Mar 24 @ 1:00 pm – 4:00 pm
"Cuando plantamos árboles, plantamos las semillas de la paz y de la esperanza."
–Wangari Maathai, bióloga y ecologista keniana
Hay un espacio lindísimo en el Sonoma Garden Park esperando plantas. Quizás no tenga un lugar donde vive para plantar o quizás necesita más tierra para realizar sus sueños jardinerías. Aquí está la respuesta.
Prepararemos la tierra para la plantación de a primavera, comeremos juntos, y relajaremos un poquito también. También habrá una actividad usando tintes naturales para decorar cascarones para el Pascua.
El evento es gratis gracias a los votantes de Sonoma County quien financian el trabajo del Sonoma Ag and Open Space District con un impuesto de ventas de un cuarto centavo.
¡Esperamos verles en el jardín!
English:
"When you plant trees, you plant the seeds of peace and hope."
-Wangari Maathai, Kenyan Biologist and Ecologist
There is a beautiful space in the Sonoma Garden Park waiting to be planted by hands as part of our Senderos Naturales program. Maybe you don't have a space where you live or maybe you need more earth to make your garden dreams come true. Here lies the answer.
We will prepare the earth in this garden for a fantastic Spring planting season, eat together, and rest a little too. There will also be an activity using natural dyes from plants to decorate cascarones for Easter.
This outing is free, made possible by the voters of Sonoma County who fund the Sonoma County Agricultural Preservation and Open Space District's work with a quarter-cent sales tax.
We hope to see you at the garden!
North Bay Fire Images
An online story map covering the North Bay between October 8th and October 30th of 2017. All members of the public are invited to upload pictures.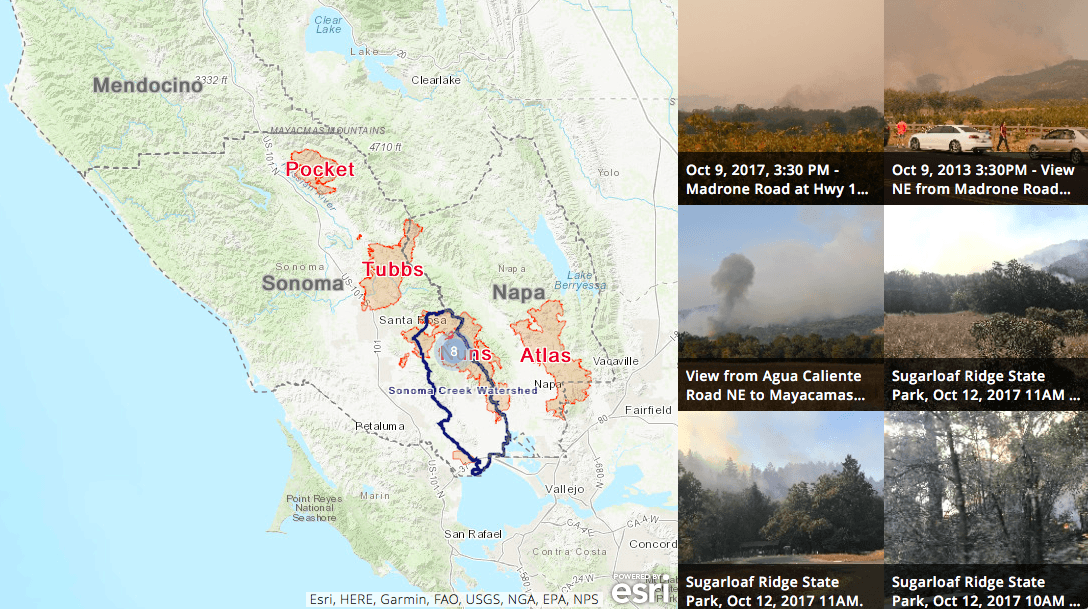 Featured Projects
Click on the image for an interactive map of Sonoma Valley

The Ecology Blog: What's Happening in Sonoma Valley