$50,000 Challenge Gift
A generous Sonoma Valley donor has offered a $50,000 challenge gift to Sustainable Sonoma. Right now, donors can double their impact when they support this initiative. Sustainable Sonoma brings together an unprecedented coalition of local leaders to tackle the big challenges our community faces like affordability, housing, sustainable tourism, inequality, and others.
The $50,000 challenge gift comes at a pivotal time. Sustainable Sonoma is finishing 12 months of preparatory work and 7 months of community listening sessions. In October, its Council of representative community groups will begin making decisions about which compelling issues to take action on together over the next 12 months.
People who want Sustainable Sonoma's approach to succeed can make a difference right now by seeing their tax-deductible donation to Sustainable Sonoma double in size.
Support Sustainable Sonoma
Sustainable Sonoma is fiscally sponsored by the Sonoma Ecology Center, a California non-profit 501(c)(3) public benefit corporation qualified to receive tax-deductible donations. Its tax ID number is #94-3136500. Your contribution is tax-deductible to the extent allowed by law.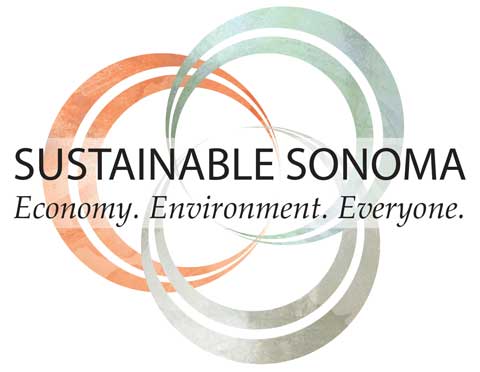 Sustainable Sonoma is a forum where a diverse group of Sonoma Valley people—businesses, environment, social justice, nonprofits, and government—can take action on solutions to our community's biggest challenges. It is carefully designed to unite our community's diverse views and voices. The result is collective action to address our chronic problems and protect what we love about Sonoma Valley.
Since March, Sustainable Sonoma's listening sessions have collected over 1,000 statements from people who live and work in Sonoma Valley on topics such as housing availability and affordability, a healthy economy, our local children and youth, our natural environment, quality of life, our transportation system, fair opportunities for all, and a healthy community of healthy people. The results, in production now, will inform Sustainable Sonoma's choice of issues to focus on. Findings will be publicized shortly.